Philippines Laws about CCTV Implementation
 In the Philippines, a bill called "CCTV Cameras for Security Act of 2012" has already been passed in the Senate Committee to help the PNP to easily solve and deter crimes. This bill was introduced by Senator Miriam Defensor Santiago in counterpart with the House bill 6627 filed by Representative Maximo Rodriguez and Rufus Rodriguez. 
CCTV installation in the Philippines is now a mandatory requirement for issuance of business permit, both renewal of business permit and for new applications. While this is a very good idea to help with the increasing crime rate in the country, the problem is that the majority of Filipino entrepreneurs do not understand its scopes and mandatory. So, here's what you need to know:                  
Who are required to Install CCTV cameras in the Philippines under the CCTV Cameras Act of 2012?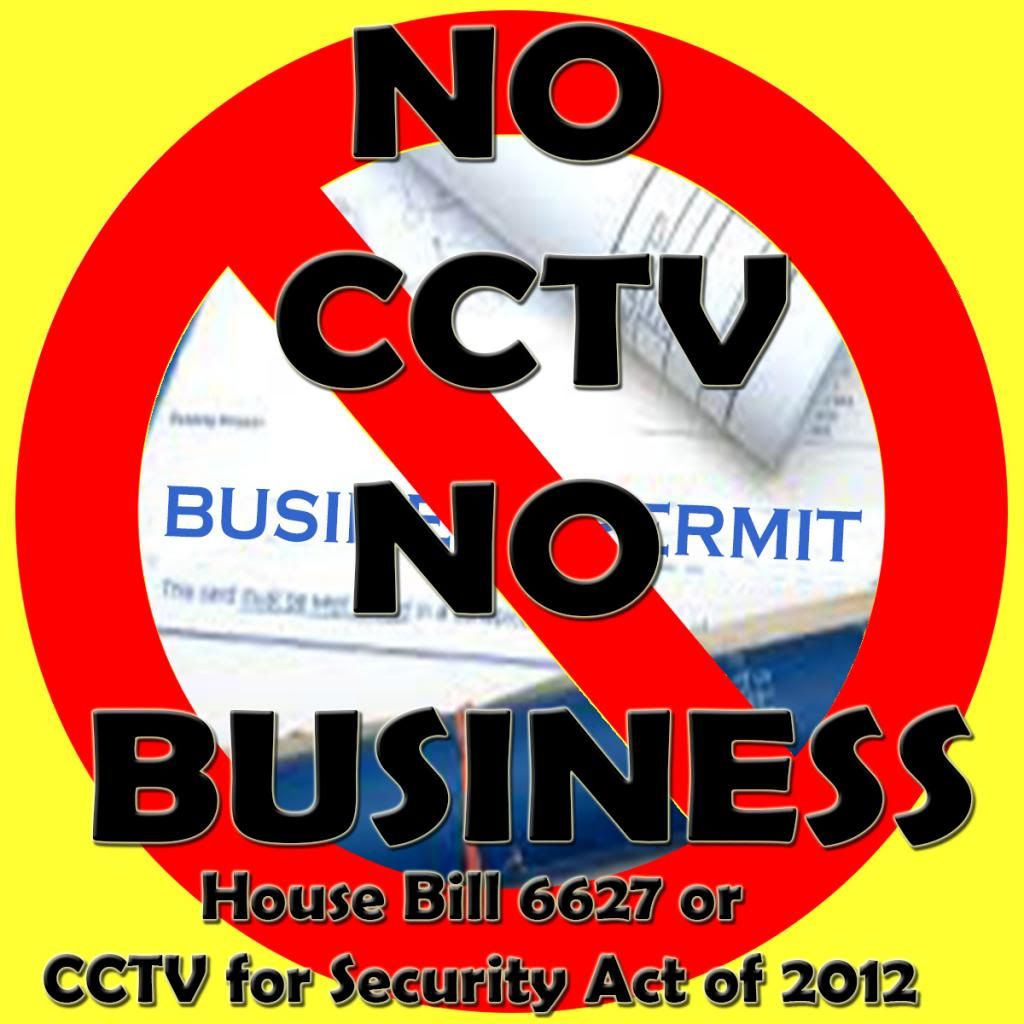 ·         All business establishments that employ no less than twenty (20) people.
·         All business establishments that have work premises of fifty (50) meters or more.
·         All business establishments whose daily transactions amount to no less than fifty thousand (50,000) pesos per day.
 What are the Mandatory Requirements for CCTV Installations under this CCTV Cameras Act of 2012?
·         All CCTV cameras must have Twenty four (24) hours, seven (7) days a week recordings.
·         All video recordings of a period of no less than sixty (60) days must be kept in store.
·         Installations for all entry points (entrances and exits) within your work area as well as perimeter of your work area.
 Other implementing Rules
·         Business establishments are required to have a clear written notice displayed in their entrances that CCTV cameras have been installed.
·         It is prohibited to install CCTV in changing rooms, bathrooms, toilet, rest rooms, shower and similar areas
·         Business owners/ managers are required to disclose their CCTV recordings  only to law officers if its:
a)      In connection with an investigation of an offense punishable by law
b)      In connection with any criminal or civil proceedings
c)       In connection to helping identify criminal perpetrator and the manner by which the offense was committed
·         The extent of the recordings handed to the law officers are only of those pertaining to the instances mentioned above.
Penalties implemented for Non-compliance
·         Imprisonment of no more than six months
·         Fine of one thousand (1,000.00) pesos per day 
·         None issuance of business permits
Parties Responsible for the Enforcement of this Act
The Department of Interior and Local Government (DILG) and the local government units. The local government units may also have implementing requirements on top of these existing requirements.
Has the CCTV Act of 2012 already been approved?
Yes, in all cities and metropolitan areas in the Philippines including but not limited to Metro Manila, Cebu and Davao. In Quezon City, all business establishments without the above mentioned exceptions are required to have CCTV camera installation.
 Conclusion
Having CCTV cameras in the Philippines is not at all a bad idea, especially if it's to protect the majority of the citizens. CCTV cameras have proven to be very helpful in solving and deterring crimes. With these penalties imposed, it has become even more practical to get a CCTV camera system today rather than later. The prices of CCTV packages are way cheaper than the penalties imposed for non-compliance.